The Winnipeg Jets are Seeing the Patrik Laine We All Hoped For
It seemed the downfall of our 20 year old hero was prematurely written. It's just three games, sure, but the Winnipeg Jets might not have many left. And he's making the most of them.
The Winnipeg Jets needed a little scoring boost throughout most of the second half, and Patrik Laine's finally been able to provide some in the playoffs.
Better late than never, right? I guess that also applies to the team as a whole, who finally got their first win of the series. It would be odd to lose both games at home and then go into St. Louis and win two, but I would take it.
That win might have preserved Paul Maurice's job. Patrik Laine has been a big part. He scored again in this one, his third goal in as many games. This one was to take the lead for good in the second period, after Kevin Hayes tied it.
The Jets did a lot of things you like to see. They came back strong from a defecit, they held a lead and they added on to a lead. They played an exceptionally physical game. I like to see that.
Kevin Hayes and Blake Wheeler are big dudes, but don't always play like power forwards. It was nice to see them do just that. Dustin Byfuglien was the Big Buff we needed. The team played…really well.
The three goals surrendered aren't ideal, but considering the circumstances, I'm fine with it. Jordan Binnington went home listening to sad 311 instead of happy 311 for once.
After a great showing in Game One, he's been exceptionally mortal. He looked like he might dominate the series after the first game. Now it just seems like mediocre defense is going to dominate the series.
Kevin Hayes scoring the first goal for the Jets was nice as well, considering his tough Jets playoff debut so far. He had ten points in 34 career playoff contests with New York, but really didn't come into his own with the Rangers until last season.
What matters is, things don't seem so dire. The Winnipeg Jets are one game from tying the series up. The whole "new, fresh season" bit can reapply if the team comes out and wins on Tuesday night.
I'd look to Laine for another goal. He leads the team in those and is second in points to Buff's five (So glad he's back, btw). This is how it should be. Wheeler and Mark Scheifele are the big stars, but the Laines and Byfugliens and Nikolaj Ehlers and Kyle Connors of the world provide excellent scoring punch when needed.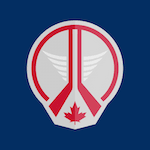 Want your voice heard? Join the Jets White Out team!
Write for us!
I'm liking what I'm seeing so far, and right now, I'm actually kind of confident.