Winnipeg Jets Stick to Their Guns with Ville Heinola Pick
You'd forgive the Winnipeg Jets for making a move tinged with myopia in the NHL Draft. However, they look like they keep the future of the franchise as their main focus.
I'm not going to sit here and tell you the Winnipeg Jets acquired generational talent with their first round selection, Finnish D-man Ville Heinola.
But I will say that it looks as though Kevin Cheveldayoff and co stuck to their guns, and drafted the player they best thought would help the franchise moving forward.
Missing a first rounder for another year would've really hurt the Jets, but they reacquired their own first rounder in the Jacob Trouba trade. Maybe they even drafted the man to fill his skates, somewhere down the line.
But I'll leave that for better minds. What I do know, is that I can respect a franchise that avoids myopic decisions. It sounds easy enough, but it happens less often than you'd think.
Ville Heinola looks to be a defenseman in the Josh Morrissey mold. They're both roughly the same size, which is a little smaller than you'd like for a blueliner, but they make up for their small stature with good vision and puck-moving ability.
The quintessential modern NHL d-man. Will it pan out? Who knows. Were there even any NHL readyish prospects ripe for reaching for, anyway? I'm not certain, but I know there were players closer than an 18 year old defenseman.
Heinola is lauded for his hockey sense and vision, and that's a good trait to have for a youngster. He's not an elite skater, though, according to reports, and that's tough for someone under 6'0 (Heinola is listed at 5'11)
It'll be a while until we know if the pick was a good one for Winnipeg. I tend to trust their track record when it comes to first round picks, however. And it's clear this move wasn't made with their current status under much consideration.
The Jets took him because they liked him the most of their available players. That's the strategy you want. Take the "best" player, and find out where he fits when the time comes.
The Jets need help on their blueline. I don't believe Heinola will be there to provide it this coming season, and maybe not the one after, either. But that's okay.
Winnipeg could really use a good draft here. Their future is uncertain, and next season is going to be a big one for them. But having some youngsters to be excited about is going to be good, no matter how the season goes.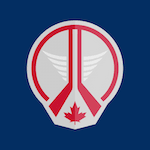 Want your voice heard? Join the Jets White Out team!
Write for us!
And this is a good start, kids.