Winnipeg Jets and Adidas Hockey Reveal New Reverse Retro Jersey
The Winnipeg Jets have started off the week with the release of their reverse retro jerseys. Here's a look at the Jets new sweater.
A couple of days ago, the Winnipeg Jets gave a big sneak peak as to what their new reverse retro jersey will look like. Their first hint only showed the back of the jersey in an animated clip and then they recently teased fans with pictures of the collar and numbers on the jersey
Finally today, the Jets, along with the NHL and Adidas Hockey, released the finished product! The Jets, along with every team in the NHL, got to show off their new jerseys.
Here is what the Jets reserve retro looks like:
These jerseys are interesting to say the least. There has been many different reactions on twitter from Winnipeg Fans. As of now it looks to be split. Some people are a little disappointed, while some like the color scheme and logo.
These sweaters were released only a little bit ago around the NHL and some fans around the league are already extremely disappointed with their respective team's reverse retro.
You can find every reverse retro and a description behind the meaning of each respective one here.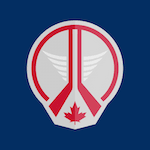 Want your voice heard? Join the Jets White Out team!
Write for us!
One thing is for certain, the NHL hit the nail on the head with the timing of the release. There is no better time to release new gear, especially jerseys, than right before the holiday season. This was an extremely smart play by the NHL, Adidas and every franchise. The jerseys will be for sale in the North American starting on December 1st.
Winnipeg Jets Fans: How do you feel about the Jets new alternate jersey? Leave your comments below!