Winnipeg Jets Lose Goaltender Eric Comrie on Waivers to New Jersey
One of Winnipeg Jets goalies, Eric Comrie was on waivers and the New Jersey Devils who were in need of a goaltender, claimed the twenty-five-year-old today.
With the Winnipeg Jets having to trim their roster to the 23-player roster allowed by the NHL by opening night, they had to place some of their players on waivers and send others to the Manitoba Moose of the AHL.
The Jets sent Eric Comrie to the waiver wire, with the hope that he would clear them and start the season with Manitoba, but unfortunately for Winnipeg, the New Jersey Devils had other ideas.
The Devils claimed Comrie off waivers. The Devils needed another goalie after Corey Crawford, who recently signed a lucrative two-year deal with the Devils, retired for personal reasons.
Originally Comrie was drafted by the Jets in the second round of the 2013 NHL Entry Draft. Unfortunately for Comrie, he never made an impact with the Jets.
Comrie made his NHL debut and appeared in only one game in the 2016-2017 season. For the next two seasons, Comire only appeared in four contests with Winnipeg.
At the 2019-2020 Jets' training camp, Comrie was waived by the Jets and the Arizona Coyotes claimed him. Comrie then placed four games for the Coyotes AHL affiliate, the Tucson Roadrunners, and then was subsequently traded to the Detriot Red Wings.
He then played three NHL games with Detriot and was put on waivers again. The Jets reclaimed Comrie in mid-December of last year and he finished the season with the Moose.
In the 16 games he played for the Moose last season, Comrie posted a 6-9-0 record with a 2.51 Goals Against Average, a .918 save percentage, and 1 shutout.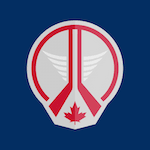 Want your voice heard? Join the Jets White Out team!
Write for us!
Winnipeg Jets Fans: What are your initial reactions to the Winnipeg Jets losing Eric Comrie to the Devils? Leave your comments below!
*All Stats Provided by Elite Prospects*