Winnipeg Jets: Three Talking Points From the 3-2 Loss to Calgary
The Winnipeg Jets unveiled new addition Pierre Luc Dubois in a 3-2 loss against arch-rival, the Calgary Flames at the Saddledome on Tuesday night.
The Winnipeg Jets had won two games in a row before Tuesday's loss. The team now returns home for the next two games against the struggling Ottawa Senators.
The game was tied at 2-2 when the Flames Elias Lindholm scored the winning goal on the power play with less than two minutes remaining in the game after Nathan Beaulieu was sent off for a high sticking penalty on Johnny Gaudreau.
With the win the Flames close to within two points of the Winnipeg Jets and fourth place in the North division.
Here are three talking points from last night's loss.
3. It is time for Nathan Beaulieu to take a spot on the taxi squad
I like Nathan Beaulieu as a gritty veteran defenseman. However, I would like him a lot more if he were a gritty, veteran depth defenseman on the taxi squad.
In no way am I blaming the Jets loss entirely on Nathan Beaulieu. However, his late game penalty ultimately did lead to the Flames' winning goal. Over the last few games, Beaulieu has struggled in his own end which has not made life easier for partner Josh Morrissey.
Tucker Poolman is recovering from COVID and should be ready to return to the lineup soon. When he is ready, I'd suggest Nathan Beaulieu, not Logan Stanley should be the player he replaces.
If Poolman still needs additional recovery time and is not ready to suit up against the Senators, I would rather Paul Maurice return Ville Heinola to the lineup and pair him with Josh Morrissey. World Junior Championship all-star Heinola looked good paired with Morrissey in his one game this season. It's time to free Ville!
2. Nikolaj Ehlers is the Jets best player
It is hard to believe that not long ago some fans were suggesting that if the Jets were to trade a forward to potentially get help on defense, that forward should be Nikolaj Ehlers, not Patrik Laine.
Thankfully general manager Kevin Cheveldayoff does not take direction from fans. Ehlers scored both Jets goals tonight bringing him up to eight goals on the season in 11 games.
Nikolaj Ehlers is not only the Jets best forward, he has been the team's best player. He consistently drives play, is dangerous every time he has the puck in the offensive zone and is using his world class speed to help carry the puck out of the defensive zone.
As a fan, it really is a pleasure watching a player as smooth and talented with the puck as Ehlers. It is also a great sign that he has risen to the challenge of being relied upon more now as a primary goal scorer with Laine no longer on the team.
If there were an all-star game this season, I would be all-in on Nikolaj Ehlers as the Winnipeg Jets representative.
1. Pierre-Luc Dubois is going to be great
In the first period, Pierre-Luc Dubois looked like a player who spent the first two weeks in Winnipeg quarantined in an apartment with minimal fitness equipment to try to stay in shape, which is exactly what he was.
Dubois came out in the second and third periods and looked much faster and more engaged. He demonstrated moments of the solid two-way player he has been throughout his career making quick passes, demonstrating bursts of speed, and showing excellent use of his size with some hits and box outs of Flames players.
In the second period, Paul Maurice replaced Trevor Lewis with Mason Appleton on the line with Dubois and Kyle Connor. Immediately that combination looked much better playing together. Once Jansen Harkins is healthy, Maurice will have even more options to consider playing with Dubois.
I am excited thinking about Dubois on this roster after he gets fully back into game shape physically and mentally.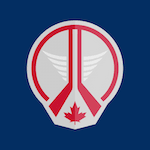 Want your voice heard? Join the Jets White Out team!
Write for us!
Winnipeg Jets Fans: What did you think about Pierre Luc Dubois debut against the Flames? Leave your comments below!
*All Stats Provided by the NHL*