Winnipeg Jets: Three Talking Points as Jets Beat Canucks 5-2
After getting shutout by the Vancouver Cancuks on Monday night, the Winnipeg Jets had a chance last night to right their wrongs from Monday and split their two-game series with Vancouver on home ice.
The Jets coaching staff decided to make some lineup changes for yesterday's game. Tucker Poolman is back healthy and was inserted into the lineup for Sami Niku and Laurent Brossoit got the start after Connor Hellebuyck started on Monday.
It is fair to say that these changes paid off for the Jets. Winnipeg found their game last night and went back to the style of play that has made them so successful throughout this season.
The Winnipeg Jets beat the Cancuks 5-2 at Bell MTS Place
Here are three talking points for yesterday's Jets win:
3. The Jets Offense Finds a Way to Bounce Back
The Jets came into yesterday's game after being shutout for the first time this season. Statistically, the Jets have one of the top offenses in the league and they rarely get shut down.
Winnipeg was led by their top-guns of Blake Wheeler, Kyle Connor, and Mark Scheifele. Each player picked up three points yesterday and got back their scoring touch.
It was fun to watch the Jets bounce back, so quickly after getting shutout by the Canucks. They had 39 shots on Vancouver's net and threw everything they had at Brayden Holtby.
2. Brossoit Plays Outstanding
Every time the Jets have played back-to-back games this season on back-to-back days, Paul Maurice has given Laurent Brossoit the start in the second game.
Last night Brossoit was making his first start since February 19, when he picked up the win and a shutout in Vancouver against the Canucks.
Brossoit had another extremely solid outing yesterday. He made 31 saves on 33 shots faced and picked up his third straight win.
Although it may be a small sample size, the Jets number two netminder's numbers this year are eye-opening. Currently, Brossoit has a 4-1-0 record with a 2.19 goals against average and a .936 save percentage.
With the Jets schedule ahead, Brossoit may be called on much more this month compared to prior months due to the heavy influx of games and traveling. It is great to see that every time Winnipeg turns to Brossoit he gives them a great chance to win the game.
1. Jets Take Second Place
With the win, the Jets hoped over the Edmonton Oilers in the standings and moved into second place in the North Division.
The Jets currently sit in second with 29 points from 22 games played. They trail Toronto, who is in first, by seven points but the Jets have a game in hand. Also, the Jets lead Edmonton by a point and the Jets have two games in hand on the Oilers.
It is great to see the Jets near the top of the North Division and getting some separation in the playoff standings. Winnipeg has a great opportunity in the next couple of days to separate themselves even further from Edmonton and Montreal and to gain some ground on Toronto.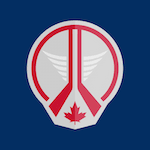 Winnipeg Jets
As a contributor, we look for your ingenuity and creativity, as well as your knowledge on specific fandoms. This is a great role for the budding writer or blogger looking for an exciting platform to hone their craft. As a contributor, you will receive unparalleled support, training, and exposure for your growing voice.
The Jets will be back in action tomorrow night as they head to Montreal to take on the Canadiens. This game will kick off a five-game road trip for Winnipeg, which includes a two-game set with Montreal and a three-game set against the Maple Leafs in Toronto.
Winnipeg Jets Fans: Who was your star performer for the Winnipeg Jets in last night's win against Vancouver? Leave your comments below!
*All Stats and Provided by the NHL*