Winnipeg Jets Great Twitter Reaction to Nate Schmidt Following Them
As we are near the end of August, the Winnipeg Jets will soon be returning to the ice for training camp in the middle of next month and before we know it the regular season will be here.
Much of the focus has been on the Jet's salary cap situation and how the Jets are projected to lineup when the season begins, which has caused some debate among Winnipeg supporters.
Regardless of all of these talking points and roster speculation, it is time to look at the lighter side of things and what occurred on social media between the Jets Twitter account and one of the newcomers to the franchise.
The Winnipeg Jets social media team had a great reaction to Nate Schmidt following them
The Jets Twitter page (@NHLJets) is a good one to follow. Besides their constant news, they have some entertaining posts including captions to photos, responding to tweets, or asking fans a question.
On Wednesday, Nate Schmidt, who arrived this offseason through a trade with the Vancouver Canucks, took to Twitter and followed the Jets official account.
In response, the Jets took a screenshot and tweeted the caption: "Yeah, you can say things are getting pretty serious between us and Nate Schmidt." (You can see the tweet below:)
In all, this was a great take by Winnipeg's social media team for Schmidt following them.
Then just a couple of hours later, the Jets Twitter was back at it again with another fantastic response to someone saying they need to stop with the lighthearted posts and trade for a number one goalie.
In an outstanding response, the Jets posted a picture of Connor Hellebuyck and the Vezina Trophy in which he won for his play during the 2019-2020 season.
Please don't change, Winnipeg Jets Twitter!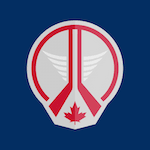 Want your voice heard? Join the Jets White Out team!
Write for us!
Winnipeg Jets Fans: Who do you think the best defensive partner is for Nate Schmidt in his first season with the Winnipeg Jets? Leave your comments below!