Winnipeg Jets: Adam Lowry's Funny Reaction to Not Playing With Andrew Copp
With the Winnipeg Jets training camp in full swing, Paul Maurice and the Jets coaching staff are trying out many different line combinations as they seek to have a balanced lineup when the season begins.
When the Jets roster was at full strength during the 2021 season, Adam Lowry and Andrew Copp were mainstays on the Jets' third line and both put up terrific numbers last season. Lowry was only five points behind his career season-high of 29 as he had 24 points in 30 fewer games (52 games). While Copp had his best career year as he scored 15 goals and added 24 assists for 39 points in 55 games.
But at the start of this preseason, Winnipeg's coaching staff has decided to split the pair up. Copp is now on a line with Pierre-Luc Dubois and Nikolaj Ehlers, while Lowry is centering Paul Stastny and Kristian Vesalainen. Lowry was asked about this and had a great reaction.
Adam Lowry is happy that Andrew Copp is still a member of the Winnipeg Jets
In the tweet below which is a transcript of Lowry's post-practice interview yesterday, provided by Ken Wiebe (@WiebesWorld on Twitter), Lowry talks about how he is happy that Copp is still a Jet because three of Lowry's linemates in prior seasons were forced to move off of Lowry's line due to the fact they joined other teams.
Those players that Lowry used to center in Winnipeg are Brandon Tanev, Joel Armia, and Mason Appleton. Lowry is glad that Copp was not the next victim of this trend of leaving Winnipeg after being on Lowry's line.
This is a great reaction by Lowry and looks at the lighter side of hockey. In all, Lowry has complete praise for Copp's play and rates him as a player that everyone on the roster wants to play with.
It will be interesting to see how the rest of camp unfolds and if Maurice and his fellow coaches decide to put Copp and Lowry back on a line as the two showed great chemistry last season.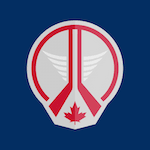 Want your voice heard? Join the Jets White Out team!
Write for us!
Lowry and his new linemates will get their first test of the preseason as the Jets faceoff in an exhibition game against the Edmonton Oilers tonight. Click the link here or the "NEXT" link at the bottom of this article to read our preview for tonight's game.
Winnipeg Jets Fans: What are your initial reactions to Lowry and Copp no longer playing on a line together? Are you happy with the move? Leave your comments below!
*All Stats Provided by the NHL*