Why can't the Winnipeg Jets have nice things in Game 4?
Imagine if you will, a first-round series between the Winnipeg Jets and the Las Vegas Golden Knights wherein Mark Scheifele, Nik Ehlers, Josh Morrissey, and Cole Perfetti are all healthy, and Mark Stone, Jack Eichel and Alex Pietrangelo are all sidelined with injuries. Take a moment and bask in the sheer deliciousness of that hypothetical scenario.
Injuries are a part of sports. I'm not splitting atoms with that declaration, but the hockey gods are usually a bit more equitable in their distribution. When Scheifele left early in the first period of Game 4, it became clear that Winnipeg cannot have nice things.
I understand that pity parties are never well attended, but one can't help feeling just a little slighted by the betide of events. For a team with numerous question marks concerning their future, the 2023 playoffs seemed like the Jets' last run with this nucleus. Now we are left to wonder what could have been.
Once again, the Winnipeg Jets fought valiantly shorthanded and pushed late to try to even the series. Some takeaways from Game 4:
1. Connor Hellebuyck is just not Connor Hellebuyck:
For better or worse, Hellebuyck must be elite for the Winnipeg Jets to win. Unfortunately, he has been below average for the series:
In all fairness, a number of seemingly 'easy' looking Vegas goals have been the result of fractional tips that have changed the trajectory of the puck just enough to fool the Jets' stalwart. In the end, his execution has been slightly less precise than usual, and the Jets have suffered as a result.
The burden placed on Hellebuyck is immense, but he has stated publicly that he relishes the opportunity. As the saying goes – 'careful what you wish for'.
2. PLD looks somewhat disinterested
Earlier I wrote that PLD was the key to this series. Attending game 4 in person, taking in the majesty of the Jets Whiteout, I took special care to watch PLD intently. Altogether way too much floating, playoff game or otherwise. PLD was often the last man back off the rush and engaged in puck battles sporadically. There were even instances where he seemed to parachute on shifts early – frustrated by sustained defensive zone time.
His game stats back up what I saw. I don't know what happened to the PLD of Game 1, but that version of him never boarded the plane back to Winnipeg. He took yet another unwarranted penalty that led to the Golden Knight's first goal and seemed to be battling with his edges throughout the game.
3. Blake Wheeler is turning back time (a little)
Blake Wheeler was once again the best Winnipeg Jet. Although offering a qualified mea culpa to Wheeler at this stage would seem hollow and reactionary, but the Jets' former captain has stepped up for this depleted roster. Therein lies the problem. If Blake Wheeler is your team's best contributor – your playoff chances are infinitesimally small.
The reality is, Game 4 might be the last time we see Blake Wheeler at home in a Jets jersey. He has been candid of late regarding his diminished skill set, and for a smart guy, he might choose to retire, rather than fight the unwinnable fight against Father Time. It would be a somewhat unceremonious end to a great Jets' career, but we don't always get to write our own script.
Other notes: Samberg rebounded nicely after a costly giveaway in game 3, and Pionk has responded better than expected to increased minutes and opportunity. In all, the Jets outplayed Vegas, as Moneypuck's "Win-O-Meter" had the Jets at 57%.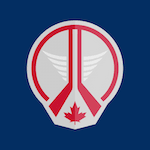 Want your voice heard? Join the Jets White Out team!
Write for us!
Heading back to Vegas for Game 5, the Jets are in tough. Even if Ehlers returns, he won't be at 100%, and the momentum is clearly with the Golden Knights. I imagine this team will continue to battle, but the chips are stacked against them. Injuries have derailed this series, but the Jets should be proud of the effort they have put forth. It's not their fault Winnipeg can't have nice things.