Questions about Jets' defence tamed after win over Oilers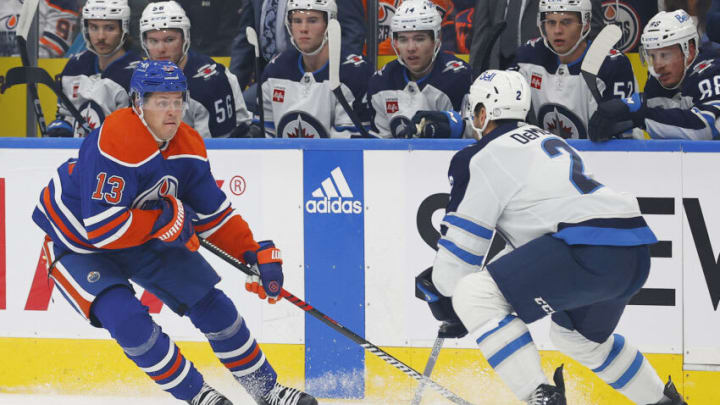 Sep 24, 2023; Edmonton, Alberta, CAN; Edmonton Oilers forward Mattias Janmark (13) chips the puck past Winnipeg Jets defensemen Dylan DeMelo (2) during the first period at Rogers Place. Mandatory Credit: Perry Nelson-USA TODAY Sports /
When Evan Bouchard made it 2-0 for the Oilers roughly seven minutes into the game Saturday night, it was pretty easy to let the mind start wandering.
Connor McDavid and Leon Draisatl were in the building, Edmonton had a home crowd backing them, and Rogers place was enthusiastic about the 2-0 score line.
It didn't help that the Jets had yet to allow less than four goals in a game, either.
Is this defence good enough? Are we about to get run out of the building and start the season 1-4-0?
It wasn't a great first 10 minutes by any means.
Then Josh Morrissey produced a power play goal assisted by Dylan DeMelo and Morgan Barron (a power play goal combination I'm sure no one bet on), Connor Hellebuyck calmly stymied a Zach Hyman breakaway, and the Jets settled into an entertaining and hard fought game.
Any game where a two goal deficit is turned into a two point outcome is a good one.
Winnipeg stuck with the process, fending off 19 first period Oilers shots, and it paid off in the end.
Dylan DeMelo continues to make his unheralded contributions
I entered this season on a mission to make a clear determination of who the Jets' second best defenseman is.
Neal Pionk's excellent first two seasons as a Jet are fading from memory, but the counting stats were pretty hard to ignore, given he scored 45 points in his first year, and set a 50 point pace in the shortened North Division season.
Despite his decline, he's in the conversation.
Previously I would have considered Brendan Dillon too, but his play with the puck has fallen significantly, though he still is a valuable transition defender and an asset on the penalty kill.
Which leaves Dylan DeMelo, the simple, unsexy defenseman who has been without a doubt the best complement to Josh Morrissey since his arrival.
He had a heck of a game against the Oilers Saturday.
With the Jets already trailing in the first period, he stamped out an Oilers 4-on-2 rush by tightly checking the puck carrier as he crossed the blueline, slowing down the play so Winnipeg could gain better positioning. He made an effective pinch along the offensive half wall, keeping a momentous Winnipeg forecheck alive.
He had two or three board battles too, where he emerged with the puck and eventually found a teammate.
And in the third period with under ten minutes to go, he sold out completely, sliding across to Hellebuyck's blocker side to block a grade A chance for Edmonton.
It's nice he found an assist too, on Morrissey's goal, but DeMelo can finish a season with zero points and be making positive contributions. He's that type of defenseman.
He did that tonight in Edmonton, giving the Jets a much needed victory, and some confidence on the back end after surrendering two goals in a game for the first time this season.
So far, DeMelo is my choice for the 2nd best Jets defenseman, and it's not because he plays with Morrissey. He's just an effective, solid player to play with.
Kyle Connor fought the puck all night but finds the apple in overtime
Connor was noticeable for me in a negative way last night, especially in the first period when Winnipeg struggled to generate much attack.
His brain and the puck were just not cooperating together.
In Winnipeg's troublesome first period, he made a clear giveaway on the power play, despite plenty of time on the half wall. He tried some ill advised backhand passes to gain the zone that failed, and later on in the game missed a completely wide open net on the one timer, sailing it high.
It was an uncharacteristically challenging game for the sniper, where poor execution met poor decisions.
But, as with all great players, he only needed a moment or two to create danger, teaming up with Scheifele and Morrissey on a beautiful, weaving 3-on-3 overtime goal.
He found his moment then. But overall Connor will want to put that one behind him.
He and the Jets offence as a whole will be looking forward to the upcoming week after a challenging opening schedule for the first five games.
St. Louis, Detroit, and Montreal are all coming to town and the Jets should have their sights set on taking at least four points that week.
And ideally, surrender less than three goals a few more times, too.