Winnipeg Jets youthful experiments cut short with need for results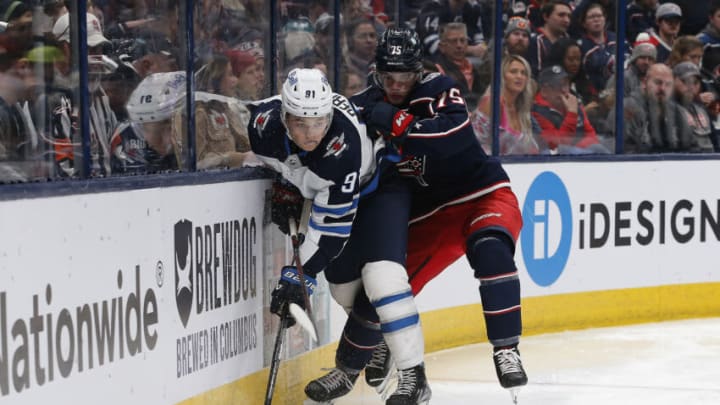 Feb 16, 2023; Columbus, Ohio, USA; Columbus Blue Jackets defenseman Tim Berni (75) checks Winnipeg Jets center Cole Perfetti (91) off the puck during the third period at Nationwide Arena. Mandatory Credit: Russell LaBounty-USA TODAY Sports /
One of the most interesting storylines early on this year involved three Winnipeg Jets players, all aged 24 or younger: Cole Perfetti, Rasmus Kupari, and Dylan Samberg.
Perfetti started the year as the second line center, while Kupari started as the fourth line center. Dylan Samberg, a Jets bright spot last season, started on the second pair alongside Neal Pionk.
The Jets identified players with potential, and began the season set on combining opportunity with learning and development.
How quickly things can change.
Cole Perfetti is now back to playing left wing, with Vladislav Namestnikov taking over the second line center duties. Samberg is now back enjoying the comfort of the third pair.
Kupari has been the one to get consistent opportunity, playing some shifts alongside Mark Scheifele and Kyle Connor, moving up to the second power play unit, but still centering the fourth line. That being said, when you're at the bottom of the roster, the only way to go is up, barring a healthy scratch or demotion to the AHL.
But in the same way that someone who openly states they're going to start going to the gym five times a week only to hear two days later that "it's too crowded there", you have to wonder about their commitment to the cause.
It's the same for the Jets. They preached early about giving young guys chances to climb the lineup. It seems that was tested by three early losses.
Which begs the question:
How do you thread the needle of developing players while also being a team that needs to make the playoffs?
Can the Jets afford to get worse to get better?
The example that always comes to mind for me when it comes to player development is when, after the Jets 2.0 earned their first playoff berth in 2014-15, they didn't hesitate to continue to introduce young players into the lineup rather than becoming a playoffs-or-bust team.
Winnipeg instead opted to continue to develop their young and highly skilled crop of prospects (Nikolaj Ehlers, Kyle Connor, Josh Morrissey), taking a step backward and missing the playoffs two years in a row.
Winnipeg then broke out, posting 52 wins and 114 points in 2017-18.
That's where things get tricky for today's Jets. Over the course of an 82 game season, can they afford to leave, say, 2-6 points on the table because they allowed their younger players to make mistakes?
If they did, would that "investment" make next year's team 4-8 points better?
It's hard to say. The big difference these two scenarios is that the Jets were clearly at the beginning of an up-swinging curve developmentally in 2015, whereas now the Jets have been "peaked" for 5 years, and are trying to see if they can find a higher mountaintop than last year's 95 point team.
Is it worth it for the team to sacrifice today's points so Cole Perfetti can be ready and experienced enough to be an above average second line center next year? Should Samberg have a long leash to develop in the top four, given that he and Josh Morrissey are the only defensemen the Jets have contractual control of beyond next season?
It's easy to sit here and say that they should. But I'm also not the one who signed Mark Scheifele and Connor Hellebuyck to 7 year contracts, promising them and the fans that the time to win is right now. In three to five years, those contracts become questionable, so you can't waste a single year.
Time is of the essence.
Confidence, development, and rushing players too soon
The other side of demoting a someone down the lineup is to protect the player and the person.
Confidence is key in sport, and if a player is playing above his capabilities – especially as a youngster – their confidence can wane and they can begin to overthink things. Particularly for a player like Perfetti, who has likely been one of the best players on most teams throughout his entire life. Letting the team down is likely a somewhat new experience.
We're seeing that caution in Anaheim, where general manager Pat Verbeek has decided that 2023 second overall pick Leo Carlsson won't play every game, to keep him fresh and gain perspective on the season.
I also think back to my Atlanta Thrashers fandom when Alex Burmistrov made the team as an 18 year old. He was so incredibly skilled and creative, but the burden of playing center in the best league in the world eventually suppressed his offensive instincts. In time, he turned into a safe, skilled centerman, but one who never reached his potential. I believe if he had been given more time to develop, he would have had a different career path.
That's where it's easy from a fan's point of view to clamor for a player to get an increased role. "Give the kids a chance!", is something every fan has said at some point. Young players with potential are an exciting part of being a fan.
But there's something to be said for taking your time developing players. As Oilers general manager Ken Holland always says, he prefers his prospects overripe. And, similar to sending a player back to junior so they can truly dominate, you can also "send Samberg back to the third pair" so that he can truly crush those minutes. Then next season, with 160 career games under his belt rather than 80, he can venture into top four territory.
It's also one thing to succeed on the third pair against the opposition's third and fourth lines. It's entirely different to produce results against the team's top two lines.
Personally, I thought Perfetti was playing well at center. But I won't pretend to watch and rewatch a player's shifts like the Jets video personnel and coaching staff do, nor have I noticed a lack of defensive detail. Perhaps the Jets have. It's also possible his shift back to wing is more about moving Namestnikov up to get Ehlers going than punishing Perfetti.
My stance is this: Perfetti needs reps this year at center, and I think he should get at least 30-40 games in that role. He needs to have an idea of what it takes to succeed there, and a playmaker such as himself should play down the middle. Chevyldayoff also noted before the season that they drafted him as a center and intend to play him there.
With Samberg, the Jets can be more patient. Being a defenseman in the NHL is difficult. And the Jets have both Brendan Dillon and Dylan DeMelo on expiring contracts. I hope the Jets re-sign DeMelo, but see Samberg as Dillon's natural replacement in the top four and on the first penalty kill unit moving forward.
Interestingly, both Samberg and Perfetti lead the Jets in shot attempts percentage at their positions, with 58.4% and 62.1%, respectively. (Vilardi actually leads the forwards, but he's only played two full games.)
Whether that matters to the Jets coaching staff remains to be seen.
But for now, those experiments will have to wait.
Winnipeg needs to win hockey games now, not next year.