Winnipeg Jets: Nikolaj Ehlers and Denmark Qualify for the 2022 Olympics
Although we still have a little bit more than two months until the Winnipeg Jets kick off the 2021-2022 regular season, Jets star forward, Nikolaj Ehlers has been participating at the 2022 Olympic qualifiers since Wednesday, as he tries to help his home nation of Demark qualify for their first appearance at the Olympics.
Demark and Ehlers started the tournament in terrific fashion. First, they beat Slovenia 4-3 and then, in their second game, they steamrolled South Korea 11-1, in which Ehlers had six points in the blowout.
That brought Demark into their final game of the round-robin against Norway, who was also undefeated and hosting the tournament. The scenario for Olympic qualification for both teams was simple: win and clinch a spot at the Olympics or lose and miss out on the games.
Nikolaj Ehlers, of the Winnipeg Jets, scored en route to helping Demark qualify for their first Olympic Games
In this tightly contested game, Demark played outstanding and kept Norway off the scoreboard as they won 2-0.
This game was even throughout, but eventually, Demark was able to score in the final minutes of the second period to break the deadlock.
Norway tried to throw everything they had at Denmark's net in the third in hopes of tying the game, but in the final five minutes, Ehlers was able to put find the back of the net to seal the victory.
Nikolaj Ehlers Leads the Tournament in Points
At the end of this mini-tournament, there is a strong case to be made that Ehlers was the Most Valuable Player of the Group.
Ehlers led the group in goals, points, and plus/minus. Ehlers scored five goals and had four assists for a total of nine points. The twenty-five-year-old also finished with a plus-five plus/minus.
Not only did Ehlers lead his group in points, Ehlers also had the most points out of any player that competed at the final qualification round including the other groups who were in action this past week.
The Olympic Field Has Been Set
Besides Demark qualifying for the games, Lativa and Slovakia also won their respective groups and clinched the final two spots. So now the twelve-country field is set for Men's Ice Hockey at the Olympics, along with the three groups for the games:
Group A: Canada, USA, Germany, China
Group B: Russia, Czech Republic, Switzerland, Denmark
Group C: Finland, Sweden, Slovakia, Latvia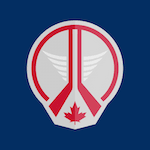 Want your voice heard? Join the Jets White Out team!
Write for us!
Winnipeg Jets Fans: As of right now, which country do you think is going to win the Gold for Ice Hockey at the 2022 Olympics? Leave your comments below!
*All Stats Provided by the IIHF*