Winnipeg Jets Prospects vs Canucks: Young Stars Classic Game Preview
The Winnipeg Jets' top prospects are back in action this afternoon as they play in their second game of the 2022 Young Stars Classic in Penticton, British Columbia.
This afternoon at 4:00 p.m. central time, the Jets face off against the Vancouver Canucks' prospects at the South Okanagan Events Centre. You can watch this game at the Jets' official website.
Winnipeg is looking to bounce back after dropping their first game of this prestigious tournament on Friday against the Edmonton Oilers. It was a close, fun-to-watch game, but ultimately the Oilers got the upper hand as they skated to a close 3-2 victory over the Jets.
Brad Lambert will look for another great performance as the Winnipeg Jets face off against the Vancouver Canucks at the Young Stars Classic
One of the top performers in the Jets' loss on Friday, was the 2022 30th overall draft selection, Brad Lambert.
The eighteen-year-old showed his impressive speed and skill in game one which included him scoring a terrific goal and adding an assist.
Lambert is a Jets player you want to keep an eye on in today's contest as he looks to continue to impress the Jets' coaching staff before the start of NHL training camp.
Vancouver Canucks Preview
The Canucks have also only played one game thus far at the Classic. On Friday, after the Jets' loss, the Canucks skated to a 3-0 victory over the Calgary Flames, which included three third period goals.
One player to watch from the Canucks in today's contest is Arshdeep Bains. The twenty-one-year-old led the WHL in points last season with an incredible 112 points (43 goals and 69 assists) in 68 games.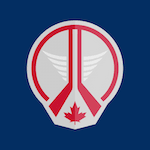 Want your voice heard? Join the Jets White Out team!
Write for us!
It will be a quick back-to-back for the Jets as they will conclude the Classic tomorrow (Monday, September 19) against the Calgary Flames at 1:00 p.m. central.