Winnipeg Jets Paul Maurice Helping Patrik Laine Through Fortnite Trouble
The Winnipeg Jets have been struggling on the ice, sure. But one of their key players is facing a different crisis.
The Winnipeg Jets know Patrik Laine will get better, and can rebound from a tough stretch. His play on the ice isn't the only thing that's been struggling, as he's been having a really rough stretch in Fortnite, too.
Recently, we found out Paul Maurice has been helping him with that, on top of his on-ice struggles.
Maurice, though now not much of a player, has a reputation as a solid PC gamer. He is known for telling his players to "just W key" during practice and games, so it's no surprise his concern about Laine's struggles.
Maurice's advice must have struck a chord, as Laine got his second solo win of season 8 just a few days ago. A lot of these issues stem from his ongoing beef with teammate and former linemate Nikolaj Ehlers, who is constantly getting dubs.
Ehlers apparently grew tired with Laine's K/D, allegedly telling him to "hit his shots" and that "you're trash kid". His toxic behavior has caused a rift both on and off the ice, but the dude can snipe.
Paul Maurice apparently tried recruiting Dustin Byfuglien to play with Laine, hoping he'd look better by comparison, but he just dragged the squad down. Maurice's best advice to Laine? "Just build lol."
Maurice even played a few duos with the youngster, showing him a thing or two. We don't have access to those records.
Laine said the issue has been the same as his struggles on the ice: They're all sweaty lobbies filled with sweaty squads. It's a tough game.
Apparently they even brought Fortnite ace Dr. Lupo into practice to sit down with Laine, because he's Dr. Lupo and he knows how to snipe. He was able to diagnose some of the technical issues, and recommended Laine land at Lucky Landing, with decent loot and not as hot of a drop.
Lupo's doctorate in being a god gamer certainly came to help this time around. We sure hope Laine can get a couple ten elim games in before the playoffs start, some confidence going in would be nice.
With a career K/D of 2.39, he's got room to get back to hitting his shots. We know he's had better luck with the gold sniper than he has with the slap shot.
We sat down with Blake Wheeler, the captain, to check in on Laine's progress. Wheeler suggested Laine switch to Apex Legends, and thinks he'd be a crack shot with a wingman. We'll revisit this during the offseason, I'm certain of it.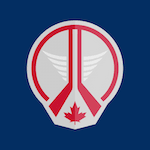 Want your voice heard? Join the Jets White Out team!
Write for us!
Most people think the only "Where we droppin boys" should be the puck at center ice, but hockey isn't always on the in the rink, sometimes it's more than what we see.