Winnipeg Jets to Raise "I'm Just Happy We Have a Team" Banners
Look, the Winnipeg Jets are just happy to be here. Not here as in 'participating in the Stanley Cup Playoffs', here as in…well, existing. And after a disappointing opening to the playoffs, we have to hang out hats on something.
To be fair, the Winnipeg Jets losing the first two games at home isn't even the biggest upset we're looking at here. The Tampa Bay Lightning have lost their first two games to the Columbus Blue Jackets.
I would not be surprised if Tampa came back to win the series. I would, however, be kinda shocked if the Jets did it. Losing the first two games at home is tough for a team like Winnipeg, who went 22-18-1 on the road.
The Jets were 25-12-4 at home, tied for the second most wins of any West team. It's a rough start. Connor Hellebuyck has been outplayed by someone most of you have never heard of, though Jordan Binnington has been quite good.
They got to him in Game 2 for three goals, but just like what happened so often in the regular season, the Jets blew another lead. They gave up an early go, as has happened so often.
But then they fought back and took the lead on goals by Blake Wheeler and Patrik Laine (ppg), so things actually looked good. Laine's got two goals in two games so far, so he's looking good.
That's something to hang your hat on. Also, at the home opener next season, I've been told that the Jets will be hanging "I'm Just Happy We Have A Team" banners in the rafters.
What more could you ask for? A second team? C'mon guys, be realistic. This is an entire hockey team! They went to the playoffs. Two years in a row!
In all seriousness, the Jets are in real trouble. Connor Hellebuyck has been solid at times throughout the season, but he's really a liability. He has been all year. Blame the defense if you want, they're not innocent in all of this.
But some of these goals are easy goals. Leads are never safe. It's been that way all season. But what can you do about it? Bench him? I mean, one year into a six year contract?
They're married to it, now. I said I would be surprised if Paul Maurice was fired after this season. Seeing how the Jets are facing the real threat of being swept, it might not be so farfetched.
I don't think he should be fired, but if the series doesn't get back to Winnipeg? It wouldn't be the biggest shock to all of us if he didn't return. The seat is warm, no doubt. It's about to get hotter.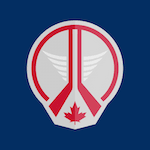 Want your voice heard? Join the Jets White Out team!
Write for us!
But I'm just happy we have a coach. And a goaltender. And Patrik Laine. And the rest of them.