The Winnipeg Jets Need a Short Leash on Connor Hellebuyck
This isn't an indictment of #37. He's our boy. But this series hasn't been his best work, following a season in which he struggled through most of it. And the Winnipeg Jets are short on time.
Connor Hellebuyck finished the season with his strongest stretch. The Winnipeg Jets, in his strongest stretch, were still pretty bad.
Honestly, he was rock solid in game one. Neither of the goals were particularly bad, and leaving a dude open six feet away from the netminder is a good way to give up goals, and that's exactly what the defense did.
Don't ask me why the Dmitry Kulikov / Tyler Myers pair is on the ice in a tie game with about two minutes left. In OT, sure, you gotta use all your guys. But let regulation ride out with people you know, want on the ice.
But stopping 24 of 26 shots in a high pressure situation is nice. Helly never even saw the first shot. The second? That's mostly on the defense. As for Game 2?
It was tough. I'm not putting this all on Hellebuyck. But Game 2 wasn't his best work, and he sits under .900 for a save percentage when you factor in both games. Unfortunate, I know.
I assumed when the defense was whole again, you wouldn't have as many breakdowns. Apparently I was wrong. And I'd rather see Sami Niku in there instead of Kulikov, but I'm not a coach.
But when you're getting outplayed by a dude who looks like he updates the Wikipedia page for Sugar Ray, it's not fun. And the Jets need a quick hook.
Nothing personal, Connor. I think you deserve to start Game 3. One poor start doesn't qualify you, and, regardless of the outcome, you played well in Game 1. But Laurent Brossoit is looming.
It's nice to even have this option, to have a backup goaltender the fans are clamoring for. They always say in baseball that the backup catcher is the most popular guy on the team, the fans all want to see if he's better than the starter.
Well, this is pretty much the same. Laurent Brossoit has been brilliant for the Jets, with a .925 save percentage and a 2.52 GAA in 19 starts in the regular season. He likely doesn't make the team worse.
But Hellebuyck should get the start, with a quick hook. I'm talking…two goals in the first hook. Or if the team drops behind multiple goals. Obviously, it's a situation you have to read: "What were the goals like" "was it 5-on-5, or an odd-man rush", things like that.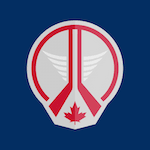 Want your voice heard? Join the Jets White Out team!
Write for us!
But the Jets have to play like their season is on the line, because it is. And hey, if that's too much pressure for you, the Game of Thrones premiere is airing at the same time. The White Out, the White Walkers, same difference.