The Winnipeg Jets are Seeing the NHL Playoffs are A Wild Time
The Winnipeg Jets are quickly learning that the NHL is a different place in the playoffs. The NHL Playoffs are a wild wasteland, and anything can happen.
The Winnipeg Jets coming back to tie the series against the Blues wasn't exactly shocking. I was surprised, sure, and I'm assuming most didn't see it coming.
But it's hardly the most shocking thing to happen this postseason. Yes, the Tampa Bay Lightning getting swept by a team that's never won a playoff series before was pretty astonishing.
The Penguins got swept as well, though the Islanders are pretty good. Still, I was surprised to see a Sidney Crosby-led team get swept.
Columbus showing up (and Tampa embarrassing themselves) leads me to think the Winnipeg Jets have a real shot at winning the Stanley Cup, which is a thing I almost resigned myself to thinking impossible.
This also makes me believe that any remaining team could win it. The Jets have played much better of late, too, and if they're able to keep up this playoff intensity, I'm all in.
Am I confident the Jets are going to do it? No, but now I know this wild wasteland of playoffs is a place where you should never discount anything. Columbus sweeping the Lightning? Why not?
Tortorella does it again, the master motivator. Patrik Laine scoring in the playoffs? We're all for it. The Flames going down 1-3 to the Colorado Avalanche? Okay, sure.
Vegas blowing a 3-1 lead to the San Jose Sharks? Maybe! But what we do know is that Winnipeg is going home tied after losing the first two games.
That's the best possible outcome. It's a best of three series, now, and the Jets have home ice again. But when they had home ice the first time, they thoroughly blew it. Maybe this time will work out a little bit better.
For Winnipeg's sake, it better. It's at least one game at each venue, but the deciding one will be in Winnipeg if it's necessary. Let's hope for the best and think it won't come to that.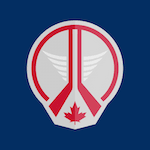 Want your voice heard? Join the Jets White Out team!
Write for us!
Though, for fun, a Game 7 in Manitoba would be cool. Not super cool if they lose in the first round, but hey, we know for a FACT the Jets won't have the most embarrassing first round loss.