The Winnipeg Jets Hate Leading Playoff Series Apparently
The Winnipeg Jets wanted you to believe in them. They played their hearts out in St. Louis. They held leads. They looked like a hockey team that might contend for a Stanley Cup.
Then the Winnipeg Jets went Same Old Jets on us. The Jets held a 2-0 lead into the third, after scoring twice in the first.
Adam Lowry scored just 12 seconds into the game. A great start. Looked like the Jets might have really swung momentum in St. Louis and would proceed to run away with the series.
Kevin Hayes followed that up with another goal, this one about thirteen minutes later. 2-0 Jets. A period and basically a half later, the Jets let St. Louis score on the powerplay.
Okay, it's still 2-1. Then the late-third-period Jets arrived. The LTP Jets allowed a Brayden Schenn goal to tie it with about six and a half minutes left.
Then, apparently another child named in 2012 scored, as Jaden Schwartz netted one with just fifteen seconds left to take the lead. I was ready to head into overtime, emboldened by the Jets first OT goal in Game 4.
I knew momentum was headed the Blues way, but I didn't know the blues were headed Winnipeg's way. 3-2, St. Louis. The final score. The series lead. The Jets play like they mean it when they have their back against the wall.
When the opposing crowd is shouting and they're being counted out by everyone in a 500 mile radius. But with momentum and believers at their side? They crumble. I'm fully confident in Winnipeg's ability to fly back into St. Louis and get a Game 7 on their hands.
Winning a Game 7 at home with the crowd cheering and everyone expecting it? I'm less confident. Maybe Paul Maurice needs to be a little tougher on his players, since adversity seems to motivate them.
Winning? Not so much. I'm not putting this one on Connor Hellebuyck. He barely stood a chance on this goal. The Jets are playing defense like they're saving something for overtime, and St. Louis is out there trying to grind.
For all the heat I've even given Helly, he hasn't been the biggest problem in this series. Yeah, he hasn't been amazing, but he's been there when they needed him. He played well this game. Things didn't go well for him.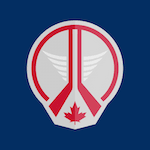 Want your voice heard? Join the Jets White Out team!
Write for us!
The Jets just did what the Jets have been doing all 2019: Blowing it. There's still time, but after a really impressive two and a half game stretch, the Jets reminded us all what they do best.