Winnipeg Jets Clear Up Their Goaltender Issue Quickly
The Winnipeg Jets have a lot of work ahead of them, with plenty of upgrades to chase and their own free agents to discuss. But they wasted no time making sure they didn't have much to do when it came to who will mind the net.
The Winnipeg Jets best move of last offseason was almost certainly the quiet signing of backup netminder Laurent Brossoit.
The one year, $750k deal was cheap, no doubt, but also brought concerns, considering Brossoit was sitting on a career .897% save percentage in 28 career games, all with Edmonton.
Now, the Oilers aren't known for their gifted player development squad, so it's safe to expect many players to improve when they find greener pastures (see Hall, Taylor). But suffice it to say, most people were worried.
I was among them, though I did like what I heart about Brossoit. The Jets obviously knew something we didn't (I'm sure they know plenty we don't), because Brossoit was lights out.
Start to finish, the guy was something else. So much so, that I called for him to start more games over the struggling Connor Hellebuyck, and I stand by those calls. I was worried the Jets would need to find a new backup, thinking someone might steal Brossoit away for a starting job.
Winnipeg jumped out to make certain that wasn't the case, and now Brossoit finds himself the owner of a nice one year, $1.25MM deal. A sweet little $475k raise for him, and he doesn't have to leave.
Could he have made more elsewhere? Probably. But apparently, he wanted to return, citing goaltender coach Wade Flaherty as a big reason for his success and desire to remain with the Jets.
In 21 games this past season, Brossoit had a 13-6-2 record with a 2.52 GAA and a .925% save percentage. Really, really solid numbers. I'm glad he's back in the fold, and honestly, if we see Hellebuyck struggling through most of the season again, I think the Jets will have to give Brossoit more starts.
They can't just sit him on the bench if we see another large gap in production for the two netminders. Should they bench Helly for Brossoit? No, not entirely. But something in the realm of 56/26 for starts would be better. Brossoit started 19 games last year to Helly's 62.
Hellebuyck did improve and was solid for much of the season, but he wasn't what he had been the previous season and I'd rather see a few more games of Brossoit, while resting Hellebuyck more for a hopefully extended playoff run. .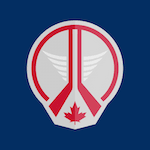 Want your voice heard? Join the Jets White Out team!
Write for us!
Either way, the Jets have wasted no time answering the questions we knew they'd have this offseason, and it's good to have Laurent Brossoit back.