Winnipeg Jets: Nashville Predators Claim Luca Sbisa off Waivers
The Winnipeg Jets placed Luca Sbisa on waivers and the Nashville Predators made an interesting depth move by claiming the thirty-year-old defenseman.
For the second time today, we are hearing off a Winnipeg Jets player who was sent to the waiver wire and got claimed by another NHL franchise.
The first player was netminder, Eric Comrie who was picked up by the New Jersey Devils. The second player to get claimed was Luca Sbisa and he is headed to Nashville to compete for the Predators.
Sbisa's NHL Career
Sbisa was drafted in the first round of the 2008 NHL Entry Draft by the Philadelphia Flyers. Unfortunately for Sbisa, he never panned out with the Flyers and headed to the Anaheim Ducks.
From the Ducks, Sbisa was then traded in the summer of 2014 to Vancouver Canucks in a blockbuster deal that sent Ryan Kesler and Nick Bonino to Anaheim.
Sbisa spent three seasons with the Canucks and then was subsequently drafted by the Vegas Golden Knights in their expansion draft. Although he was hurt for most of the season, Sbisa was an assistant captain on the team and had a great impact in Vegas. He played an important part in the Golden Knights' magical run to the Stanley Cup Finals in their inaugural season.
In 2018-2019 Sbisa signed and played nine games with the New York Islanders. In the early part of the 2019 campaign, the Isles placed Sbsia on waivers and he was claimed by Anaheim again.
Anaheim then signed Sbisa and sent him to the waiver wire again, but this time the Winnipeg Jets picked him up. Last season Sbisa skated in 44 games for the Jets and had two goals, eight assists, 37 penalty minutes, and a +1 plus/minus.
Although Sbisa was named to the Winnipeg Jets playoff roster, he did not play in any games for the Jets series when they were eliminated by the Calgary Flames.
The Jets placed Sbisa on waivers yesterday as part of their many roster moves and the Predators claimed him. The Nashville Predators will be Sbisa's fifth team in five years.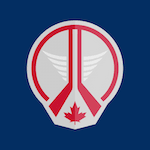 Want your voice heard? Join the Jets White Out team!
Write for us!
Winnipeg Jets Fans: Do you think losing Luca Sbisa will hurt the Jets' chances of success in the upcoming season? Leave your comments below!
*All Stats Provided by the NHL*